Biblical Prophecies on the Advent of
Muhammad , the Prophet of Islam
The Biblical prophecies on the advent of the Prophet Muhammad 
are evidence of the truth of Islam for people who believe in the Bible.
In Deuteronomy 18,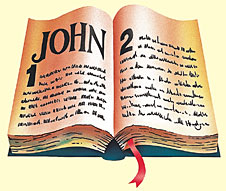 Moses stated that God told him: "I will raise up for them a prophet like you from among their brothers; I will put my words in his mouth, and he will tell them everything I command him.  If anyone does not listen to my words that the prophet speaks in my name, I myself will call him to account." (Deuteronomy 18:18-19).1
From these verses we conclude that the prophet in this prophecy must have the following three characteristics:
1)  That he will be like Moses.
2)  That he will come from the brothers of the Israelites, i.e. the Ishmaelites.
3)  That God will put His words in to the mouth of this prophet and that he will declare what God commands him.
Let us examine these three characteristics in more depth:
1)  A prophet like Moses:
There were hardly any two prophets who were so much alike as Moses and Muhammad 
.  Both were given a comprehensive law and code of life. Both encountered their enemies and were victorious in miraculous ways.  Both were accepted as prophets and statesmen.  Both migrated following conspiracies to assassinate them.  Analogies between Moses and Jesus overlook not only the above similarities but other crucial ones as well.  These include the natural birth, the family life, and death of Moses and Muhammad 
but not of Jesus.  Moreover Jesus was regarded by his followers as the Son of God and not exclusively as a prophet of God, as Moses and Muhammad 
were and as Muslims believe Jesus was.  So, this prophecy refers to the Prophet Muhammad 
and not to Jesus, because Muhammad 
is more like Moses than Jesus.