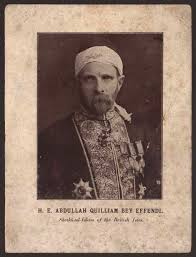 The three British men who embraced Islam
There is a little-known story of three English gentlemen who embraced Islam at a time when to be a Muslim was to be seen to be a traitor to your country. Through personal journeys of still surviving relatives, the programme looks at their achievements and how their legacy lives on today.
William Henry Quilliam, a local Liverpool solicitor and resident embraced Islam in 1887 (aged 31), after returning from a visit to Morocco, and took on the name Abdullah. He claimed that he was the first native Englishman to embrace Islam. His conversion led to a remarkable story of the growth of Islam in Victorian Britain. This history is now beginning to emerge and has important lessons for Muslims in Britain and around the world.