Tuesday, February 2nd, 2016
"All [or most] Muslims are terrorists."
There are 1.6 billion Muslims in the world. The much-discussed ISIS (Islamic State of Iraq and Syria) organization, which has been described as the "richest terrorist group in the world" can only field between 7,000 and 15,000 troops in its battle to create a fundamentalist homeland. Even taking the highest estimate of their troop strength means that fewer than 1 out of every 106,000 Muslims from all over the world are actually willing to take up arms and fight for the fundamentalist dream. The Iraqi army, however, can field 250,000 soldiers to fight against that fundamentalist vision. That figure does not include irregular forces allied to the Iraqi army. The premise that all Muslims are terrorists falls flat by a mere study of the numbers. It isn't a majority of Muslims. It isn't even 1% of Muslims.
http://theantimedia.org/propaganda-and-islam-what-youre-not-being-told/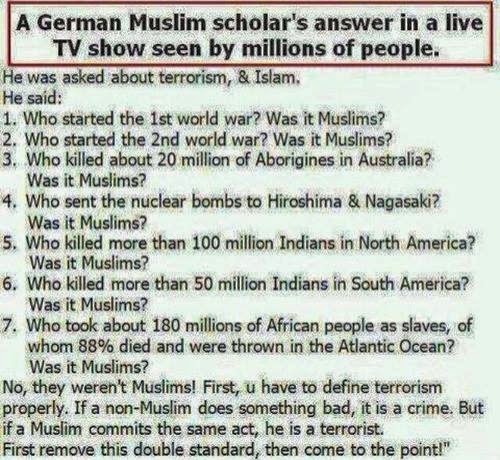 Tags:
Islam
,
terrorists