Hundreds of Muslims face danger in Central African Republic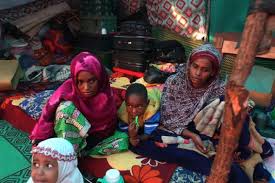 The UN Refugee Agency (UNHCR) demanded that at least 470 Muslims from the Peuhl ethnic minority, trapped for several months in the Central African Republic town of Yaloke, around 200km from capital Bangui, need to be relocated as a matter of urgency, Al Jazeera reported.
Dalia al-Achi, public information officer for the UNHCR in Bangui, told Al Jazeera on Tuesday that the group, who had initially fled from a number of towns in February 2014, were growingly desperate as living conditions worsened.
She added, the group required urgent humanitarian assistance and needed to be relocated to another part of the country or perhaps to neighbouring Cameroon or Chad.
"It is quite simple: it is now about life or death. Are we going to watch them die, or are we going to take heed to what they are saying and try to save them," al-Achi said.
Yaloke sits on the central axis to Cameroon, with commercial trucks passing by the city towards the border on a daily basis.
More than 700 Peuhl Muslims escaped the towns of Bouaca, Boboua, Bolemba, Boda last February, after anti-Balaka fighters, mostly made up of Christian vigilantes, started targeting them.
After spending two months on the run, hiding in the bushes as they made their way towards the western half of the country, in the hope of reaching Cameroon, the group arrived inYaloke in April, where they have been ever since.
While they fled, more than 150 of them were killed by anti-Balaka fighters. Another 42 died in Yaloke from illnesses and injuries. The UNHCR says the remaining 474 residents were facing severe malnutrition and the risk of disease. More than 30 percent was suffering from malaria, while at least six people had tuberculosis.
On Monday, Human Rights Watch released a report saying that hundreds of displaced Muslims were now trapped in camps in the western half of the country, living in abysmal conditions and under constant duress.
Number of View :1562